Culture impact everything from food to fashion and language all as important to religion and social living.  Both cultures have change in many ways because of the engagement in trade, immigration, and wars. From the Roman Empire, the Greek empire, and the Ottomans.
The Mediterranean continue to evolve based on the new trade agreements such as the ECU and others, the new immigration from the Middle East like Syria and Iraq, and of course wars like continuous disagreement for peace treaty over Cypress between the Turkey and Greece which bring influence to the region from all over Europe and other country with the presence of the UN peace security forces.    
Contributing to a political settlement in Cyprus
UNFICYP was originally set up by the Security Council in 1964 to prevent further fighting between the Greek Cypriot and Turkish Cypriot communities. After the hostilities of 1974, the Council has mandated the Force to perform certain additional functions.United Nations Peacekeeping Force in Cyprus (UNFICYP)
The similarities are in the main ingredients: olives and olive oil, citrus fruits, mostly the same vegetables and other fruits like grapes. The principal proteins are lamb, chicken, and seafood. Rice plays a big role in the diet, though breads made of wheat or barley are also very common.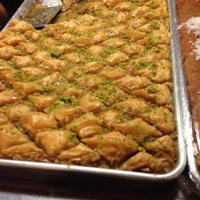 Real Doner Mediterranean Turkish Food – 12 tips from 209 visitors
Mes Amis Lebanese restaurant, Hammersmith | Secret hidden bars …
The differences lie primarily in the seasonings, that is, which spices and herbs dominate a particular cuisine.
Cooking techniques are pretty much the same across all three cuisines, though some show certain preferences. Stuffed vegetables (and some fruits) are commonly shared. Things like kibbeh or borek tend to be identified with particular cuisines, however.
Turkish Beers
The vast, overall similarity goes back to shared influences over the millennia including the Crusades and the domination of the region by the Ottoman Empire.
Lebanese bars | Executive Magazine
Article written by John Burgess and edited by eddieadel publisher myconnectionsmagazine.com
John Burgess
Former US Foreign Service Officer who's been around the block (and the world) a few times.
(Visited 25 times, 1 visits today)