GIGI double hitter on the NY runway ….
The modeling Sisters 
Gigi Hadid and Bella Hadid
Gigi Hadid began modeling when she was 2 years old, but the Hamlins' parents didn't let them model until last year. Since then, their careers have taken off. Delilah walked in Tommy Hilfiger's fall 2017 show in Los Angeles and Dolce & Gabbana's fall 2017 outing in Milan. And, as of June, when Amelia joined IMG, they're both signed to the high-profile agency that also reps the Hadids.
Together, the Hamlins have already been featured in Town & Country and Vogue Taiwan. But they didn't always dream of being models.
Growing up, Amelia wanted to be an astronaut, and Delilah wanted to be a secret agent. One day, in 2015, a bored Delilah asked Amelia to take Polaroids of her in their Beverly Hills back yard. The older sister uploaded them on Instagram, and then a modeling agency messaged her through the app to ask for a meeting. Now, Delilah counts Tyra Banks as one of her biggest inspirations.
"Before I ever wanted to be a model, I watched 'America's Next Top Model' — I was insecure then and seeing [host Banks] embrace her [curvy] body was really inspiring," Delilah said.
Amelia said the sisters' style has changed since the start of their careers.
Amelia Hamlin, Lisa Rinna, Harry Hamlin, and Delilah Hamlin pose for a family photo.
So there are these two sisters — the daughters of one of the stars of "The Real Housewives of Beverly Hills." The older sibling is a classic California blonde. The younger one is a brunette with a wicked pout and edgy style. And they're ready to take the fashion world by storm.
Sound familiar?
Delilah and Amelia Hamlin are ready to follow in the footsteps of megamodels Gigi and Bella Hadid, with whom they have a lot in common.
RECOMMENDED:
The photogenic daughters of soap opera actress-turned-"RHOBH" firebrand Lisa Rinna, and '80s "LA Law" heartthrob Harry Hamlin, Delilah, 19, and Amelia, 16, are auditioning for their first New York Fashion Week shows this week. And they're giving the Hadids a run for their money — even if the Hamlins insist the similarities are only on the surface.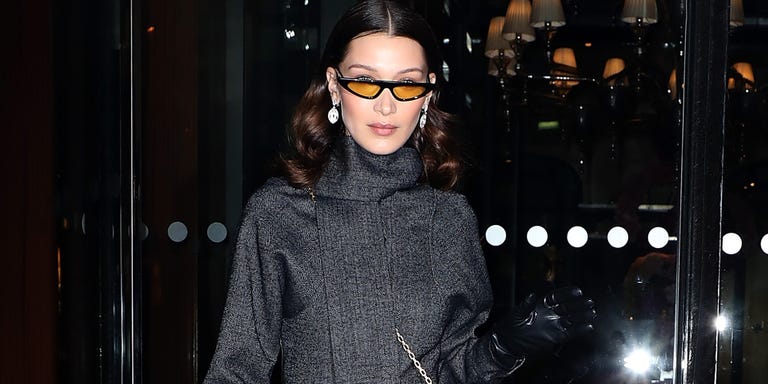 Here come Bella Hadid Gigi's 2 years younger sister with her looks taking out the rest of the crowd to the back of the NY runway. Her Ralph Lauren contract moved her to the top of the modeling path with a little help from her Gigi sister super model
(Visited 29 times, 1 visits today)